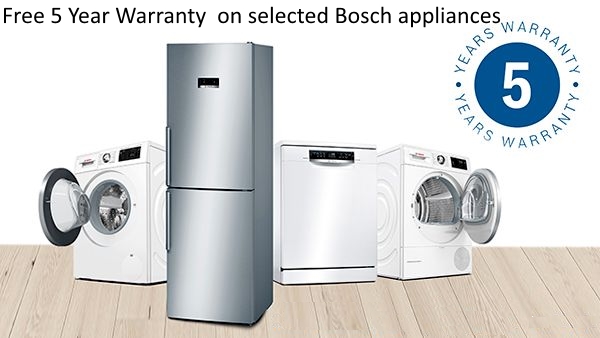 5 Year Warranty Offer
5 Year Warranty Offer on selected appliances. Adds a further three years to your two year manufacturer's warranty, covering you for 5 years.
How to claim
Purchase a qualifying appliance from the list below between April 1st 2020 - March 31st 2021
Visit bosch-home.co.uk and select 'MyBosch' in our navigation menu
Login to your MyBosch account or create an account, this helps to keep track of all of your appliances in one place. You will be sent an email to confirm your MyBosch account
Now login to your account and click on 'Register an appliance'. Follow the product registration and give model details and purchase date when required
During product registration you will see an option to opt-in for the free 5-Year Warranty. This will only appear on applicable products and for purchases made between April 1st 2020 - March 31st 2021
Please keep your proof or purchase to accompany your product registration, you may need to present it in the event of any repair claim.
If you need help with your warranty registration at any point, please call our customer service department on 0344 892 8979.
Showing 1 to 2 of 2 (1 Pages)